Yesterday, our friend and neighbor Tom G. picked us up at the ungodly hour of 5:30 AM in order to get us to the airport in the requisite time for our 7:30 AM flight. What good neighbors we have, don't you think? Molly dog was left at home to be picked up and boarded by TDW for the next few days while we go on an actual vacation to New Orleans. That's right, no extraneous classes, agendas or conferences. An honest to goodness vacation.

<![if !vml]>
<![endif]>We've invited along Beth's parents, Archer and Vivian, but, at Archer's insistence we are traveling on different planes. I knew no amount of logic or argument would persuade him that the entire family had a better chance of being wiped out on a trip to The Hamptons in one of our trusted rustmobiles than being shot down from skies by Osama and his crew.

With my Silver Elite status on Continental, I was bumped to first class, but Beth had used her miles on an earlier business trip and was relegated to what we laughingly refer to as steerage. Actually, as I was in the last row of first class and she talked her way into a bulkhead seat, she was actually in the row directly behind me. Smaller seat, worse food, but actually more legroom. There was an empty seat in first class, but my diplomatic skills gave out arguing with the ground crew and flight attendants to move her up. I couldn't even pass back my fruit plate through the curtain to her. The flight attendants seemed rather shocked that I would even contemplate such an act of air piracy. The attitude is really something out of an old world class system, not just as monetary discrimination, which is understandable, but also carrying with it an air of the "other" not being PLU (people like us). It's the sort of thing that turns libertarians into socialists. And, for crying out loud, no movie on the flight! Let's man the barricades, comrade.

The most spectacular sight flying in New Orleans has to be the causeway crossing Lake Pontcharatrain, apparently the longest one in the world. We're staying at the Omni Royal Orleans in the French Quarter and Arch and Viv will be at the Maison DuPuy where will join them tomorrow. The moving around is caused <![if !vml]>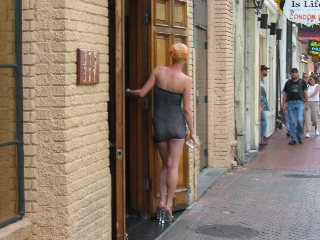 <![endif]>by the superior price we get because of the way Beth bid for our various accommodations through bids at silent auctions. The Royal Orleans is a serviceable old hotel with a rather spectacular 7th floor roof pool and spa area. It is directly across (and we have a view of) a huge, beautiful (and under construction) old Courthouse that was used in the courtroom scenes of Oliver Stone's motion picture JFK. The Maison DuPuy is a classic old lady of a hotel with a great amount of charm. It's location at the northern edge of the French Quarter makes for a few more blocks of walking, but also gets you away from the Bourbon street crazies if you want to take a break from it all.

And there is a lot of "it all." With music spilling from seemingly every door of most streets, the French Quarter of New Orleans is exactly what you would imagine. Having previously stopped at the Maison DuPuy to check in her parents, Beth and I immediately set out on foot (it is definitely the most efficient way to get around) and headed down Toulouse Street towards the Mississippi River. Even at this early hour, the place is hopping. Every residence seems to have the requisite 2nd story wrap around balcony or 'widow's walk' where, during Mardi Gras, parties are a twenty-<![if !vml]>
<![endif]>four hour occupation. I'm sure were going to see a lot more of Bourbon Street life during the evening hours.

Passing by Jackson Square with its magnificent statue of 'Battle of New Orleans' hero Andrew Jackson, we stopped at the Café Du Monde for a frozen chicory café au lait and my first authentic beignet -- or what the locals call doughnuts. A beignet (pronounced 'ben-yay') is a deep fried dough concoction covered with powdered sugar. Sort of like a thicker, lighter, crispier French Toast. And incredibly filling. I didn't eat another thing until our 8:00 PM dinner.

Next we skipped up the nearby stairway to get a gander at the mighty Mississippi River along the Moon Walk. A term we now associate with Michael Jackson, the Moon Walk is a river walk area named after the infamous Louisiana politician Moon Landrieu. Sitting directly in the harbor in front of the bridge was the Riverboat Nachez.  <![if !vml]>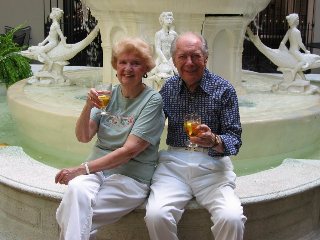 <![endif]>I think gambling is now legal on some these riverboats that ply the Mississippi coastline around New Orleans, but the Nachez is a museum/tourist attraction. I'll have to check that out later. I do know that there is a Harrah's casino in the DBD (downtown business district).

After a quick rest back at the hotel, we popped over to the Maison DuPuy to pick up Arch and Viv. We had a not-so-quick couple of Pim's Cups in the quaint outdoor garden area of the hotel and then hustled the in-laws into the bustling French Quarter to get a taste of the craziness that is N.O. This is Viv's (and my) first visit to this town (Beth's second), but I believe Arch was actually stationed here when he was in the Army. At any rate we virtually made a complete circle of square that makes up the French Quarter. Vieux Carré is another name that you see for this area and it literally means 'Old Square.' Some of the areas surrounding the Quarter actually have quite amusing names in historical terms. For instance, the street that constitutes the northern border of area is named N. Rampart St. Who would breach the 'Ramparts' now other than drunks from Louis Armstrong Park, I have no idea. And the name of the area just across the other side of the Mississippi River? Why, 'Algiers,' of course.

We took dinner (don't you love that phrase?) at a wonderful restaurant in the DBD called August (named after the proprietor, I believe). All I can say about the quality of the place is that Archer didn't complain once…about anything…. food, service, lighting…nothing. And for those that follow these things, we each had different starters and entrées. Warning: the next paragraph talks only of what we consumed.

<![if !vml]>
<![endif]>I started with a 'BLT' -- buster crabs, lettuce and heirloom tomatoes and Arch had an assortment of 3 different patés. Viv had a house special shrimp soup ("Soupe de Poisson") and Beth started with a spinach salad with buttermilk dressing and fresh crab meat. Entrées -- Beth: The Papin (rabbit) over sage grits special; me: Prime Filet of Beef, with marrow (a huge bone with a fork in it) and tomme de savoie potatoes; Viv: a Porcini Encrusted Skate with a crayfish risotto; Arch: Roast Duckling with Rice Wine and Plums. All washed down with a rather young '99 Davis-Bynum Pinot Noir, which after breathing a few minutes, seemed to have complimented all are various dishes. We skipped dessert as it just seemed superfluous and settled for Expresso and Capucinno.

Having taken a cab to the DBD, we decided that it was close enough to walk back and, following Beth's intrepid lead marched off down Tchoupitoulas street and back into the French Quarter.

Did I fail to mention that we tend to pack a lot of adventure filled minutes into our vacation time? Maybe I'll just lie by the pool today.